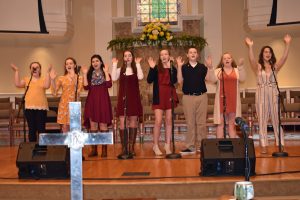 Students are not only the "future" church, but the "present" church
We are grateful for their energy, enthusiasm, and participation. Beargrass is strongly committed to providing excellent ministry to middle and high school students. In addition to a full-time, ordained youth minister, a team of devoted adult sponsors serve as mentors for our youth.
Programs
Three weekly student ministry programs combine fun, fellowship, study and service projects. Students may participate in any or all of the programs.
Sunday School 10:00—10:50 am
Wednesday evening

5:30 pm Youth Hangout Time (Youth Space)
6:30 pm Youth Study (Youth Space)
Wednesday Youth programs meet during the school year

Sunday evening 5:00—6:30 pm
Some Beargrass students also enjoy our music and sports programs. Summer highlights include camps and mission trips.
Rev. Rob Shrader (Minister of Youth & Young Adults) leads outstanding youth programs at Beargrass during the school year. Adult sponsors and teachers are also part of the leadership team.